If you're reading this article then you probably already know: the GMAT format changed starting from April 16, 2018! And if this is news to you, then good thing we caught you! But don't freak out. The change was barely a change, and we're here to put your worries to rest.

Let's walk you through everything you should know about the changes to the GMAT in 2018. We'll cover changes to the number of questions, section timing, and how this affects your pacing during the test.
What changed in a nuthshell...
In short, the 2018 GMAT is the same test but now 30 minutes shorter, because all experimental questions were removed from the Quant and Verbal questions. Everything you're being tested for is the same and all testing skills, strategies, and knowledge are still applicable to this new GMAT format.

Here's a more detailed breakdown: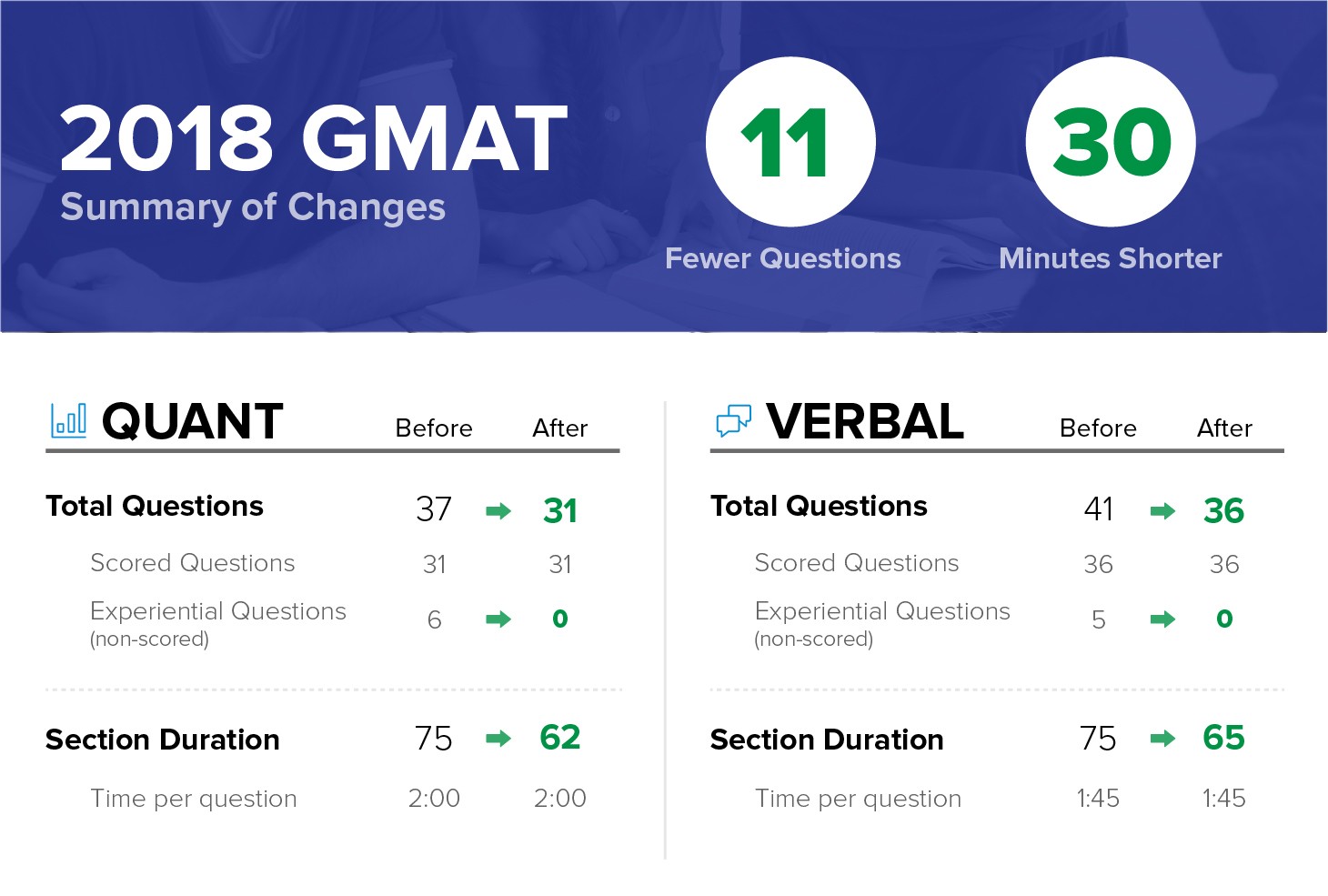 What didn't change:
No changes to the Analytical Writing Assessment (AWA)
No changes to Integrated Reasoning (IR)
Test takers still get Quantitative and Verbal subscores and a 200–800 overall score
Question types are the same
The same skills, strategies, and knowledge are tested as before
The timing guidelines per question are the same
What did change:
The Quantitative section now has 6 less questions and is 13 minutes shorter
The Verbal section now has 5 less questions and is 10 minutes shorter
In total, the GMAT test is now 20-30 minutes shorter
The questions removed from the Quant and Verbal sections were all unscored experimental questions. Therefore, now all questions answered on the GMAT will count towards your score!
Let's recap!
In conclusion, hopefully this blog post has alleviated some of your anxiety. Preparing for the GMAT is stressful enough. It's good news though. This new GMAT format is 30 minutes shorter, and that equals less mental fatigue for the test-taker. Mental endurance is key to scoring 700+ after all.
If you're in need for a GMAT coach, check-out my online platform at Indigo Prep. I offer hundreds of hours of GMAT prep material, in addition to weekly one-on-one coaching sessions. Visit my website to learn more!