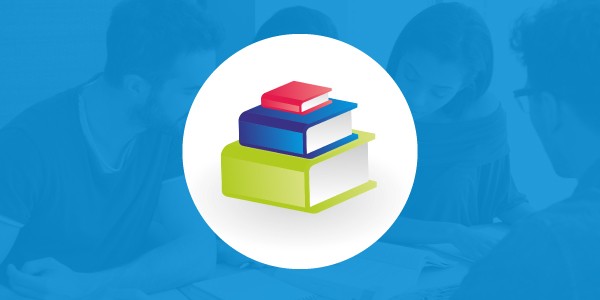 There are a ton of GMAT prep books - too many in my opinion. With so many choices, it's an overwhelming selection for the new GMAT test-taker. I've heard countless stories from my former GMAT prep students about how difficult it is to differentiate one book from another. And how much time and money is wasted jumping from book to book.
For this blog post, I'm going to cut out the noise and hopefully save you some time and money. I'll cover what makes a good GMAT prep book, and share my top 3 picks that will adequately prepare you for all the sections of the GMAT.
Note: From my 20 years of GMAT prep experience, studying only the content and books is often not enough to score 700+. You should also seek a coach or course the covers GMAT test-taking strategy.
3 Qualities of a Good GMAT Book
Let's keep it simple. The best GMAT prep books excel in at least 1 of the following 3 critical components, and I've chosen my picks for top books based off this criteria.
Clear Answer Keys & Review Sections: Most GMAT books offer answer keys and review sections, but some do a better job than others. You'll want a book that provides comprehensive answer keys and reviews that clearly explain why the provided answer or process is correct. Understanding the skills and strategies to come to the correct answer is critical.
Realistic Practice Tests: The GMAT exam is a 3-hour long mental marathon. It's important that you replicate this experience in your preparation.
Insightful Strategies: The best books go further than just providing questions and answer keys. Scoring 700+ on the GMAT requires knowledge of the various test-taking strategies that exist. Look for books that cover strategies such as time management, process of elimination, and identifying question types.
Pick #1: The Official Guide(OG) to the GMAT Review Bundle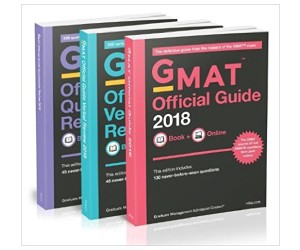 I recommend that all my students to buy the Official Guide. Published by the GMAT itself, it is the only source for actual GMAT questions. However, please note that the Official Guide content discussion and answer choice explanations are purposely misleading. The content discussion is dramatically skewed away from the topics most frequently tested. For instance, the discussion of Number Property content covers one page while Geometry content covers several pages. Number Property content may be applied to 2/3rds of the questions while the Geometry content may be applied to 1/10th of the content.
Also, the answer explanations do not discussed alternative methods - only the slow, obvious way to solve. The Official Guide purposely explains the wrong way to approach questions - rarely if ever should you solve a GMAT question in the way described in the Official Guide
Pros

Hundreds of new and retired test questions with online question banks
Super realistic questions written by the actual test-makers
Comes with a online practice interface (identical to the real test)

Cons

Misleading explanations
Limited content on test-taking strategies (the secret to scoring 700+ unfortunately)
Limited content on highly advanced GMAT questions
Pick #2: Total GMAT Math by Jack Sackman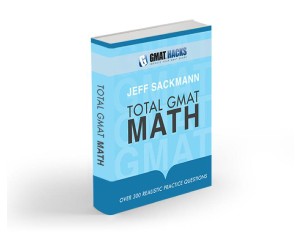 If you're specifically looking for help in the quant section, look no further than this book. It covers virtually every type of quant question that you're likely to see on the GMAT. The book does a great job reviewing question types, walking you through exercises, and challenging you with advanced questions!
Pros

300+ GMAT math questions to practice
500+ exercises to practice general math. Not GMAT stylized but still highly relevant
All quant topics to expect covered
Clear answer explanations(sometimes with diagrams!)
Provides insights on strategy

Cons

A bit confusing at first. Chapters don't build on top of each other and the text is dense. Read the 'How to Use This Book' section before you jump in!
One of the more expensive books
Summary blurbs not provided after each section. This is usually standard with any text book, and is often very helpful.
Pick #3: Kaplan's GMAT Verbal Book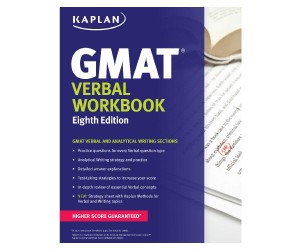 This is a cheap, easy-to-follow workbook that does a great job covering the verbal section of the GMAT. The book's not perfect, but definitely my top pick as far as verbal prep books go. Did I mention it's only $7?
Pros

Straight-forward coverage of Reading Comprehension, Critical Reasoning, and Sentence Completion
Strong section on Critical Reasoning
Over 2000 GMAT-style questions, many on the more advanced side
Under $10 to buy!

Cons

Non-native English speakers might find the Sentence Correction section underwhelming
GMAT-style questions provided aren't as realistic as actual practice tests. Make sure to take a real practice test for verbal.
Conclusion: Don't Stop at the Books
In summary, I hope this blog post will save you some time and money on the book decision-making process. If you're looking for only 1 pick, I recommend buying the Official Guide bundle, hands-down. If you're looking to specialize in verbal or quant, the other two books are my top picks. Outside of this selection, these 3 books are all you need from a content stand-point.

However if you're looking to score 700+, I highly recommend finding a coach or prep course, where you'll hone in on GMAT test strategies. A strong blend of content and strategy knowledge is needed for a 700+ score. At Indigo Prep, we offer monthly and annual subscription plans that specialize in GMAT strategy, and you'll have a dedicated mentor to guide you through the process. Visit our website to learn more!